Our benefits
Ability to earn $500+ in a week. Your earnings depend on the time youspend online

Timely payments twice a month in USD

No charges, you can start working right after downloading the app

No adult content. Confidentiality ability to use the nickname

Only 2 hours a day, working on your smartphone

Ability to improve your skills as blogger or live streamer
Who are we
looking for
You are a charismatic girl, 18-35 years old
Your English level is not a problem – our application automatically translates all your messages
You have a good smartphone, stable Internet connection, and ready to dedicate at least 2 hours a day
You are willing to work and make money on live streams
You can grab attention and maintain any kind of conversation
Will be a plus
Stress-resistance
Creativity
Sense of humor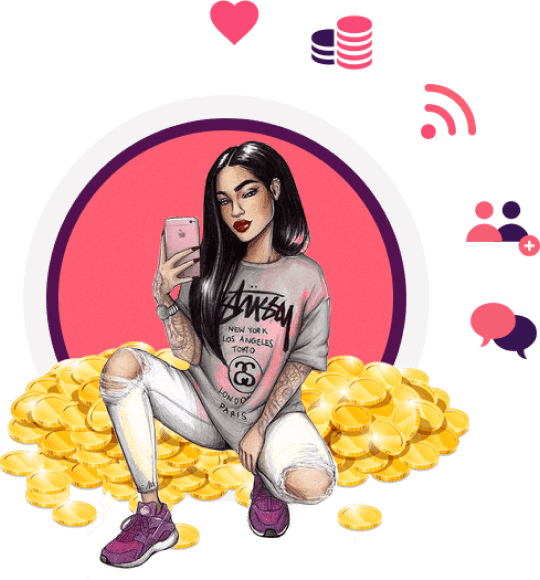 How to start
Fill in the contact form

on the website

Our Managers will get back to you within 24 hours to conduct a small interview, and to provide you with all the info that you may require

Free of charge! You don't have to pay for anything to start working

Communicate with people in the app

and earn money $$

If you are proactive, and dedicated you can make $1000 (or even more) per the first two weeks!
Calculator
Wondering how much you can earn?
Just answer a few simple questions, and you'll get your answer. But remember – the more you work, the more you earn!
Your earnings per week:
$0.00
FAQs
What's the job?
The job of a live broadcaster is to communicate with other users online in a video. You can sing, dance, show some magic tricks, or just spend time on communication with new interesting people. Attention – adult content is not allowed in our applications.
Can I work with you if I don't know English?
You should know how to say at least some basic phrases in English – ask the user how was his day and so on. We are looking for girls with at least Lower-Intermediate level. It is a plus if you can speak other languages as well. Also, our application automatically translates your messages to the users from any language.
What is the salary?
Your salary depends on how much time you spend online in the application, and how you interact with users. We always give tips and small trainings to our girls on how to earn more. More details will be sent to you by our managers. Just fill in the contact form
What is the schedule? Is it full-time?
We humbly advice to work at least 4 hours per day, 5 days per week in order to have good earnings. Basically, you can choose your working hours, and work when you have free time, as the schedule is quite flexible. You can easily combine this work with your studies and so on.
I don't have any talents. Can I try joining your team?
Of course. You may even find your hidden talents with us! You can just spend time talking to users in our application, and making new friends! No need to be a singer to become successful with us. Don't be afraid to improvise, and always follow the tips that our manager will give you.
How can I get a payout?
We pay via Payoneer within 7 days after the end of each payment period. One payment period is two weeks (1st-15th, and 16th – 31st of each month). Currency – USD. If you don't have an account on Payoneer yet our managers will be glad to help you!
Register and earn money with
YouStar Agency